Select your language
Nederland (Nederlands)
België (Nederlands)
Belgique (Français)
España (Español)

Altrex International:

English
Français
Deutsch
Español
Altrex telescopic ladders for when you want to work safely at varying heights. Strong, lightweight and reliable. The telescopic ladder can be stored compactly. A retracted ladder hardly takes up space and an extended ladder enables you to reach extreme heights. The range of Altrex telescopic ladders provides the perfect ladder for any task – from private tasks to professional jobs and for all work activities. Find your perfect telescopic ladder now online.
Buy a Telescopic Ladder
Do you want to buy a telescopic ladder? When you use the Altrex aluminium telescopic ladders, you can be sure of always working safely, even way up high. A telescopic ladder is also called a retractable or extendable ladder. Regardless of which one you choose, with Altrex you always work safely at any height. The Altrex telescopic ladders comply with prescribed laws and norms; the Dutch Commodities Act and EN-131.
Which telescopic ladder should you buy?
The type of telescopic ladder that you should buy depends on various factors. Important is to ask yourself how intensively will you be using the ladder. If only for home use, then the TL Smart Up Easy is adequate. If you need a telescopic ladder for professional use, then choose the TL Smart Up Pro. But one thing is certain. By buying an Altrex telescopic ladder, you opt for safety and comfort at any working height.
Top 3 of the best-selling telescopic ladders:
How do you use a telescopic ladder?
You can extend a telescopic ladder up to your desired height. The rungs of our telescopic ladders are always secured to prevent them from folding unexpectedly. Retracting the ladder is easy by using the unique central control on the lowest rung. Furthermore, the ladder can be retracted compactly in order to store it and therefore can fit into a standard boot of a car.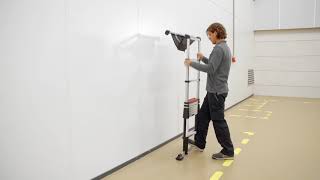 Take your time to examine how you can use the telescopic ladder and how you mount the stabiliser? We will explain everything.
Compare the various ladders?
Buying an aluminium ladder is not a decision you make lightly; we know that better than anyone else. Still not sure whether you have selected the right ladder? Compare our ladders.